Press Release – Portfolio company My Baker launch Corporate Range
MY BAKER LAUNCHES STUNNING RANGE OF SWEET & SAVOURY BUSINESS MEETING BITES; SHOWCASES ITS CORPORATE ANNIVERSARY CAKES AND LARGE SCALE NATIONAL OFFERING
This Autumn saw My Baker voted LUXlife Food Innovator of the year and Leading Purveyor of Corporate Baked Goods for 2021.
The ongoing success of many thriving businesses often hinges on their capacity to adapt to an ever-changing marketplace with a flexible, open-minded outlook.
The award-winning My Baker is at the forefront of businesses well-placed to evolve and expand, providing a broad church of fresh artisanal cakes, bakes & cookies that were meticulously created to service the burgeoning 'comfort food/me-time treat' renaissance taking hold.
The sheer number of inspiring companies seeking to dispatch fresh cake joy inspired My Baker founders, Mel & Mark in the winter of 2021 to revisit the B2B arm of their business, that needed refreshing and refurbishing to mirror the mushrooming success of its fast-moving B2C division.
As someone who spent his formative years in the City, co-owner Mark knows a thing or three about catering for corporate meetings. 'I can vividly remember some lovely examples of 'meeting food,' but also being disappointed by the lack of consideration for the practicalities of 'eating whilst meeting.' Meeting food should be delicious with a wow factor, yet straightforward, risk-free (no spillages…) and mostly hand-sized treats capable of being eaten without cutlery.'
My Baker, as the 'first mover' within D2C freshly baked cakes (cake concierge for uncompromising cake aficionados) is perfectly placed to not only bring 'cakey joy' to countless households and workforces, but build upon its nationwide reach.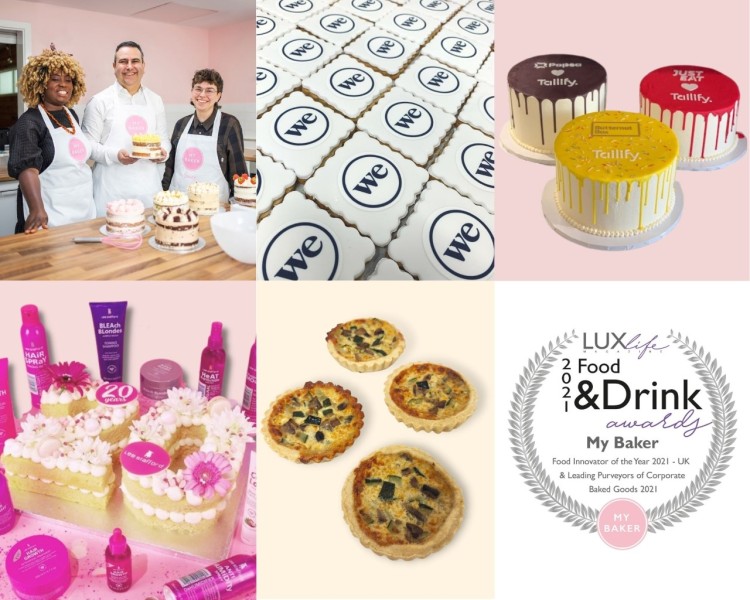 'This winter,' Mark continues, 'We're keen to bring a real 'feelgood factor' to the workplace, courtesy of a deliciously diverse sweet & savoury offer, via a dedicated home page for corporate clients, which includes such easy-to-eat delights as: Apple Coffee Cupcakes, Banana Pecan Loaves, Pumpkin Muffins and Vegan Pistachio Blondies, to mouth-watering Cheddar, Chive and Date scones and Leek Olive & Mushroom tarts.'
As well as bringing excitement to meetings, My Baker's corporate offering includes show-stopping cakes for special occasions, having recently provided branded, themed number cakes for hair care brand Lee Stafford's 20th anniversary, and luxury home dining start-up yhangry's 1st.
Furthermore, with an enviable network of 200 carefully vetted artisanal bakers, large scale and multi-site orders hold no bounds for My Baker, who recently provided 4,300 cookies via same-day deliveries to all 50 WeWork sites across the UK and ROI for Mental Health Awareness Day. Having also sent over 200 boxes of cookies and brownies to various key AlixPartners clients, it is little wonder that My Baker is LuxLife's Leading Purveyor of Corporate Baked Goods for 2021.
Zoom Meetings and virtual-get togethers have certainly played their part in keeping both big and small businesses ticking over throughout the last year, but in truth nothing beats a well-orchestrated business meeting laden with thoughtful meeting treats.
– My Baker is a rapidly expanding husband & wife business with a burgeoning reputation for providing a wide variety of fresh, bespoke cakes & bakes made with best-in-class ingredients to discerning cake enthusiasts via an unrivalled community of gifted, artisanal bakers.
– Born back in 2016, My Baker was originally a London-based business that has rapidly extended its reach to span a majority of the UK's major cities and suburban/rural regions.
– Today My Baker can accommodate the distinct cake loving needs of both D2C and B2B communities.
– My Baker is especially proud of the role it has played helping talented bakers in these uncertain times top up their order books and generate some much-needed additional revenue alongside their independent sales, which might help explain how today they are growing their talented family of gifted bakers at a rate of 12-15 a month.