Looking to
invest in EIS/SEIS?
Supporting UK start-ups since 2013
Our Fund invests in innovative and disruptive early stage businesses and supports them on their journey. Our EIS provides follow-on capital to fully exploit commercialisation of a proven business model.
Evergreen Fund now open and investing
Find out more about Jenson  in this interview with Sarah our CEO.
Find out more about our Funds in this insightful interview showcasing some of our portfolio companies, exits and background on Jenson.
For Investors
We offer investors the choice of investing in either an SEIS or EIS portfolio or split their investment across both. Our portfolios are designed to help mitigate the risks of early stage investment by diversifying across sectors and business risk profiles.
For Companies
We would like to hear from all companies who are seeking funding to grow their business and who meet SEIS/EIS requirements.
Jenson evergreen SEIS & EIS Funds
The Funds aim to target exciting new innovative and disruptive technologies to be nurtured alongside existing investment opportunities that require follow on investment to fully exploit commercialisation of a proven business model.
The Jenson Seed EIS Fund 1 initially invested £150,000 in October 2013. Follow on rounds via the EIS Funds investing over £420,000 across various tranches between 2015 and 2019.   Syndicated investment from co-investors raised a further £2.5 million. We are delighted...
read more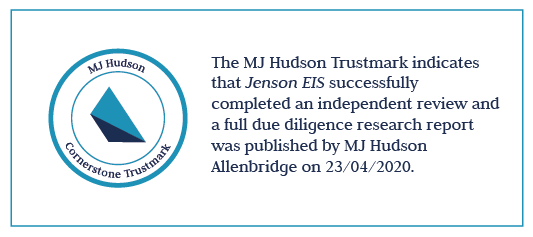 The first tranche of the Jenson #SEIS Fund 2020/21 will be closing to investment on 15th January. We have limited capacity available for this funding round. If you would like to find out more please visit our website here: https://t.co/MlHLZIla1f
#investment #diversification