Growth Investor Awards – Exit of the Year – One to Watch
Jenson Funding Partners named as a One to Watch in the fifth annual Growth Investor Awards
Identified as a market leader in the coveted award for Exit of the Year
After beating off tough competition to become a finalist, Jenson Funding Partners has been named One to Watch in the fifth annual Growth Investor Awards, the landmark event that celebrates the standout investment providers who help SMEs to thrive.
For five years, these awards have shone a spotlight on the providers who have an impact beyond investment: creating jobs, boosting economic growth, and supporting innovation. With the growth capital they provide, ambitious businesses are able to scale up and make the UK one of the most dynamic places in the world in which to start a business.
The 51 investment provider finalists celebrated this year have participated in over 3,300 fundraising rounds, investing £5.67 billion into growing businesses. This year, the growth investment they provide has helped almost 2,300 SMEs to create 1,600 jobs and turn over more than £200 million. And 45% of those SMEs are based outside of London, with three-quarters of them already expanding overseas.
Sponsored by RW Blears, the Exit of the Year category highlights any kind of exit strategy since 5th April 2018, paying attention to investment performance, value added to the investee business, customer feedback and overall impact.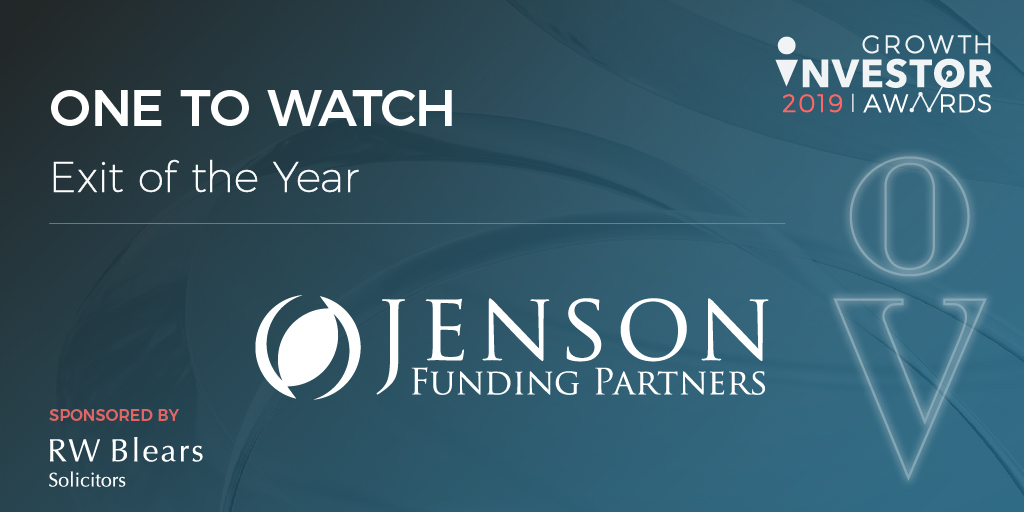 Commenting on becoming One to Watch in this prestigious awards event, "We were delighted to be recognised against larger competitors in this category. With five exits to date, ranging from an exit of 3.7x investment, with earnouts this could potentially reach a 12x return, to the lowest return of 0.83x investment (before tax incentives and performance fee) reinforcing our place in the industry.  We will continue this year to grow our portfolio of companies contributing to economic growth whilst supporting innovative companies", Sarah Barber CEO.
"We launched the Growth Investor Awards five years ago to celebrate the inspiring individuals and leading organisations whose talents and commitment help growing businesses to power Britain's economic growth," says Guy Tolhurst, Managing Director of Intelligent Partnership, the organiser of these long-standing awards.
He adds: "The winning companies at this year's event demonstrate the impact beyond investment of growth capital. Every penny of investment in early-stage businesses has a real-world effect. It inspires optimism in growing teams, creates jobs, boosts regional economies, and drives innovation."
Finalists have been chosen by Intelligent Partnership's research team, guided by an advisory board. The best entries were passed to a second round of judging carried out by at least three people from an independent panel of 41 judges, to provide a diverse mix of qualified perspectives. All of the judges' scores are collated to determine the winner, with all finalists receiving a personalised feedback and benchmarking report to provide insight about areas for improvement.
For further information please visit growthinvestorawards.com