Ebar Launches Crowdfunding Campaign
We are delighted to share the news that our #SEIS Investee, Scottish BeerTech company EBar, has launched a Crowdfunding Campaign.
Aberdeen based beer technology company EBar has launched a £175,000 crowdfunding campaign in pursuit of it's mission of speeding up bar service at events. The funds will be used to refine and build the firm's automated bar kiosk that enables thirsty fans to skip the queues by ordering, paying and dispensing their own beer in less than 30 seconds – significantly faster than a typical event bar.
The campaign is being undertaken through equity crowdfunding platform, Seedrs, with EBar seeking support for their mission of speeding up bar service and helping get fans back to the event they came see. The campaign will be live from the 2nd May for those interested in learning about the benefits and risks of this investment through the link www.seedrs.com/ebar.
Since the company's conception two and a half years ago by two MBA graduates from Robert Gordon University, the Bridge of Don company has developed and trialed the EBar® at fantastic venues including a top flight Premier League stadium and most recently at Twickenham for the Rugby Six Nations.
The idea for the EBar® came from keen rugby fan Sam Pettipher after missing a match winning try at a rugby game in 2016. "People don't go to concerts or sports events to stand in bar queues and miss their event" says Sam, "We've launched this crowdfunding campaign to build more EBar units that will help get fans back to the event they came to see. We'd encourage investors who love going to events but hates queuing at the bar to support us on our journey to revolutionise bars at events."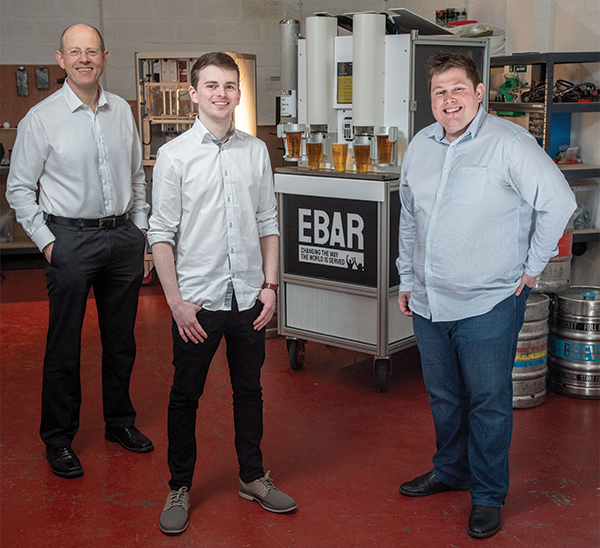 EBar (EBar Initiatives Ltd) is an Aberdeen start-up on a mission to change the way the world is served at events. Founded by MBA graduates from Robert Gordon University in August 2016 the company is headquartered in Bridge of Don with a growing team of talented beer technology engineers developing the EBar beer dispensing machine.
Since the company was founded in August 2016 EBar has made great progress with highlights including;
Winning £75,000 funding at Scottish EDGE in December 2017
Raising over £228,000 of private investment in May 2018
Being included in New York broker CB Insights report as one of 7 start-ups globally disrupting the happy hour in the BarTech space. https://www.cbinsights.com/research/happy-hour-disrupting-alcohol-market-map/
Deploying the first generation EBar at worldclass venues (AECC, Twickenham and a top flight premier league club)
To find out more please visit Ebar online.