Raishma feature in 100 Stories of Growth
We are delighted to share the story of Raishma, one of our investee companies from our very first #SEIS Fund.
The Jenson SEIS Fund 1 invested in Raishma Couture in 2013 and Jenson Funding Partners along with partners from Jenson Solutions have worked with Raishma ever since.  Here are a couple of excerpts from the article:
"Searching for a business mentor
By the end of 2013 Raishma knew she had the market, the skills and the drive to create a new ready-to-wear label. But as a designer, she had little experience or expertise in the highly competitive world of mainstream retail and wholesale.
As fate would have it, Jenson Solutions and Jenson Funding Partners, strategic and operational advisors to the Jenson SEIS Fund, were on the lookout for small start-ups that would qualify for Seed Enterprise Investment Scheme (SEIS) funding.
"It was the first year of Jenson's SEIS fund, it had already invested in a number of tech companies, but was on the lookout to have a broad-reaching portfolio," says Lynn Woodward, non-executive director."
"A fresh brand for existing customers
As her exclusive designs were filling a gap in the market, Raishma built up a loyal customer base over 15 years. With her designs gaining popular demand, Raishma understood the potential of a mass-market range for the high street.
Her expertise and experience as a couturier gave her a point of difference. With her meticulous eye for detail, true craftsmanship and high-quality materials, Raishma created a more accessible ready-to-wear range."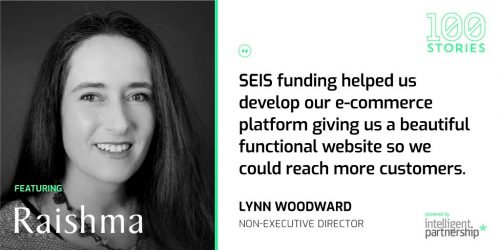 Lynn Woodward, Non-Executive Director and Jensons Partner commented "SEIS Funding helped us develop our e-commerce platform giving us a beautiful functional website so we could reach more customers".
To read the full story please visit 100 Stories/Raishma or visit Raishma.